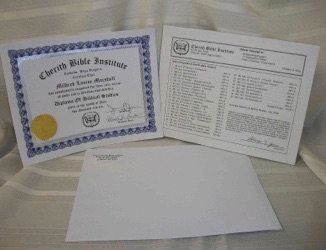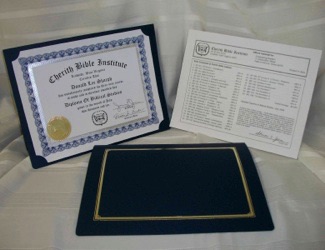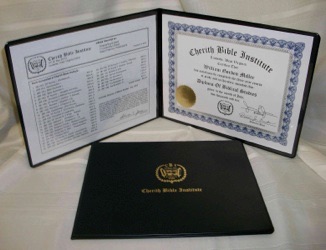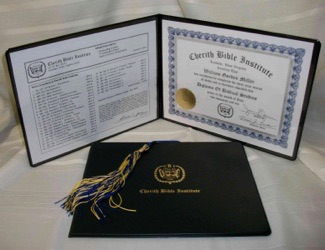 Graduation/ Awarding of Diplomas
Upon the completion of all 30 units of study, the student will be awarded a Diploma of Biblical Studies. Students enrolled in the 20 unit program will receive a Certificate of Biblical Studies. There is no cost if the student just wants a standard certificate or diploma. However, we do offer graduate packages for a donation to cover the expense of providing a diploma, transcript and accessories. Donations are what help us provide this "no cost" program of study. With the ever growing number of students, there are expenses we are trusting God to use our graduates to help provide.
Graduation Packages and Donation Amounts
These donations are more than reasonable for the training the graduate has obtained in these programs. We have faith that God will touch the hearts of those who have profited through this ministry to help support this ministry. Donations above the amounts given above will help us to continue to offer this plan of study. (Make donation check out to Cherith Bible Institute and mail with other information to the address given below) We also ask our graduates to promote Cherith Bible Institute in their churches and tell other believers about the program.
1) Full Name (as to appear on the Diploma or Certificate)
2) Student Identification Number (to verify that all work is complete)
3) Mailing Address (to which the diploma will be sent)
4) Brief statement about yourself and blessings received through the Cherith Bible Institute.
5) Graduation Package selected with Donation Check.
6) A recent photograph. These photographs and information will only be used with your permission. (Simply attach the jpeg formatted image to the Graduation Information e-mail, or send it with your donation through the mail to:
Cherith Bible Institute.
Box168
Lindside, West Virginia 24951
Graduation Information Needed